Mas d'en Pinc Tower Viewpoint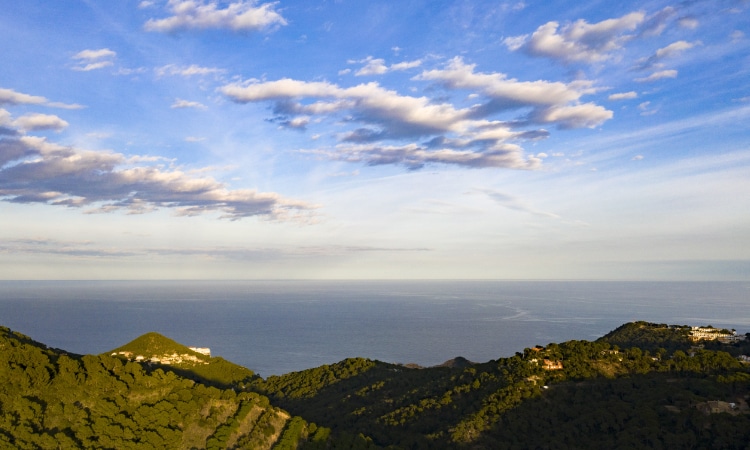 The MAS D'EN PINC SPACE is a public/private municipal facility oriented along two major axes. Firstly, the configuration of a work center for the management, protection, study and dissemination of the marine and terrestrial natural capital of Begur and Esclanyà. Secondly, a space for disseminating the history of the municipality through the eyes of the building itself.
The equipment is located at Mas d'en Pinc, a traditional Catalan farmhouse composed of different volumes, an interior courtyard and a defense tower against piracy built in the 16th century. The tower can currently be visited and from this viewpoint you get a less common view of the northern side of Begur Castle. The tour is part of the Begur lookout route.
More information HERE
In 1961, the flamenco artist Carmen Amaya settled in the farmhouse until the date of his death on November 19, 1963. The farmhouse passed into the hands of the Begur Town Council and for 25 years (until 2015 ) was the seat of the Nereo Association, which promoted the creation of the Ses Negres Marine Reserve.
The ESPAI MAS D'EN PINC was born in 2016 as the headquarters of the Environment Area of ​​Begur City Council as well as other local entities from the private world. The facility has several exhibition spaces, a library, the documentary collection of the Ses Negres Marine Reserve, a laboratory, a multipurpose space open to everyone with a projector suitable for meetings as well as talks and courses (capacity for 25 people), as well as a camping area for Scout organizations.
FOR MORE INFORMATION:
ENVIRONMENTAL AREA – Space Mas d'en Pinc
Passeig Carmen Amaya, 12 · 17255 Begur
Tel. 872 214 977
mediambient@begur.cat
OPENING TIMES:
From Monday to Friday from 9.00 a.m. to 2.00 p.m.