Sa Riera
How to get here
This is the largest cove in the borough of Begur, its name derived from a watercourse that divides it into two halves. The old fishermen's houses still stand here. The cove also has two smaller neighbours: Port des Pi to the right, and Cala del Rei to the left.
CHARACTERISTICS:
230 m long and 75 m wide / grainy sand / access on foot, by car, and by public transport in summer.
WHAT YOU WILL FIND:
Nearby dining options, showers, toilet, PRM toilet, service of assisted swim by Red Cross, lifeguard, PRM access, beach bar, leisure facilities, diving centre, PRM parking, car park.
What's the weather like? Sa Riera
Orientation of the beah: north-east
sol : all day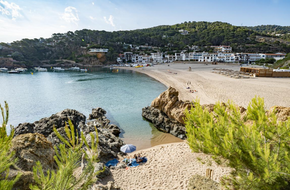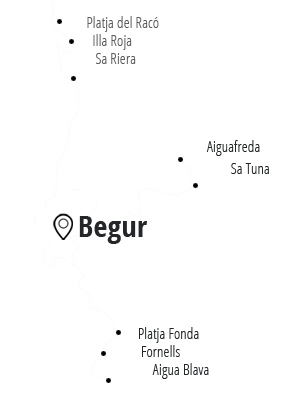 What will you find here?
Discover all the services, activities and excursions in the area
FOOD AND DRINKS
ACCOMMODATION
HIKING
Bar Riera

Plaça de Sa Riera, 4 local 2 · Begur · 669074909

Madame Pizza

Plaça de Sa Riera, 4 · Begur · 872 226 909

Bar Sa Proa

Placeta Xicu Florian - Platja de Sa Riera · Begur · 629 148 971 · 972 622 083

El Raco de Sa Riera

Catalonia, 1 - Platja de Sa Riera · Begur · 972 622 109

Recer de la Mar

Platja de Sa Riera, s/n · Begur · 972 622 384

Costa Brava

Plaça de Sa Riera s/n · Begur · 972 622 093

Hostal Ses Negres

C. del Mar, 8 - Platja de Sa Riera · Begur · 649 71 51 71

La Rectoria de Begur (Hotel el Convent)

ctra. de la platja del Racó, 2 · Begur · 972 623 091