Fornells
How to get here
To the south there are also the coves of Fornells, which given its outstanding setting has become a prime summer holiday and residential location. Fornells stands out for its marina and the house that Bonaventura Sabater, popularly known as Xiquet, had built overlooking the port of Ses Orats. Named El Paradís it was, according to local tradition, here that this stretch of coastline was, a hundred years ago now, first named the "Costa Brava".
The coastal path provides a link to all the small coves that make up Fornells: to the north, the narrow cove of n'Estasia, and to the south Ses Orats, and then further on d'en Malaret. The common feature of these three coves is that the sand is far from fine, but they are quiet spots for sunbathing with very clear water, making them ideal for diving to observe the seabed. A little further on is the cove of Port d'Esclanyà, which is broader and pebbly, both on the beach and in the water.
CHARACTERISTICS:
Access on foot (coastal path), by car, and by public transport in summer.
– Cala n'Estasia: 25 m long and 25 m wide; access on foot; pebbles
– Cala Port de ses Orats: 15 m long and 10 m wide; access on foot; fine sand
– Cala d'en Malaret: 17 m long and 15 m wide; access on foot; fine sand
– Cala Port d'Esclanyà: 85 m long and 15 m wide; access on foot; pebbles
WHAT YOU WILL FIND:
Nearby dining options.
Download PDF
What's the weather like? Fornells
Orientation of the beah: south-east
sol : all day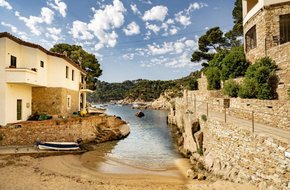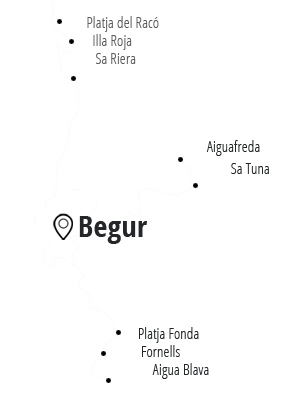 What will you find here?
Discover all the services, activities and excursions in the area
FOOD AND DRINKS
ACCOMMODATION
HIKING
Hotel Aigua Blava

Platja de Fornells s/n · Begur · 972 622 058

Hotel Eetu

Platja de Fornells s/n · Begur · 972 113 330 · 673 331 515

Hostal Ondina

ctra. Begur-Aiguablava, 3 · 972 622 052

Parador d'Aiguablava

Platja d'Aiguablava · Begur · 972 622 162